Late summer is here, bringing us those long, lazy days with golden sunsets. The usual visitors pop by, like the blue heron who fishes here most mornings from May to August. The grasshoppers have taken the place of the bullfrogs. The orb weavers are outside our windows, and I'm sure the Praying Mantises will come along soon to.
Late Summer Harvest, Looking Toward Autumn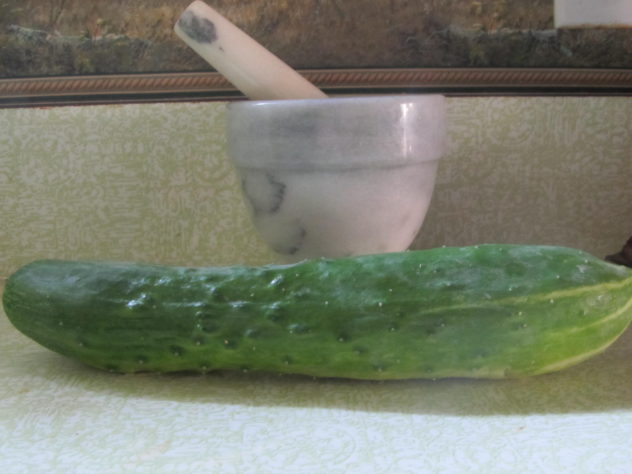 Now is also the time for zucchini and cucumbers – ours are more than ready to come off the vines!
Sliced cucumber – with or without a light sprinkling of salt – has been a snack and lunchtime favorite in the house. My daughter requests them often, while my husband will stand at the counter, slicing and nibbling at cucumber. It's also a refreshing treat for our black-headed caique, whose diet is predominantly fruits and veggies, with some walnuts, seed and pellets. Last year, we had far too many cucumbers, so we took it down a notch this year. I think we still have homemade pickles from two years ago! We probably need to make more this year.
The zucchini is growing huge. I'm accustomed to buying the fairly slender ones at the local grocery store. I'm so glad we grew zucchini this year, because it is easily double and triple the size of what we can buy. The other night, my husband took the largest one, sliced it down the center, hollowed it out, then filled it with pork sausage marinated in Italian seasonings, added tomatoes, and topped it with cheese. Then he baked it for about an hour in the oven at 425 degrees. It was so delicious and there were more than enough leftovers for a second round tonight!
I am grateful we can make the most of our land. This is a very appropriate bounty, with Lughnassadh – the first harvest – approaching. I look forward to that holiday every year because it signals that we are nearing autumn. It's my favorite season and I love the colors of the leaves, the cooling temperatures, and of course I adore Halloween!
For now, though, the garden is bursting with goodies!